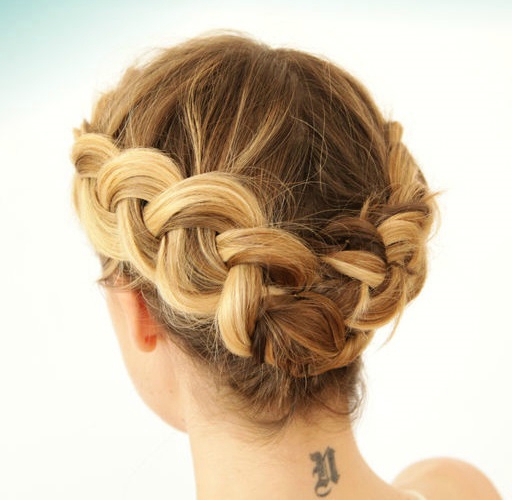 This is my first summer in a long time that I'm rocking a medium-length haircut. For the last few years, I've had super long hair that has been annoying but pretty easy to deal with during the warmer months: when it was super hot out, I would just pile my hair into a messy bun or a long braid. With my still fairly new medium-length cut, that has been significantly more difficult. My hair is in an awkward transition period where half of it doesn't fit in a bun, and it's not yet long enough to look cute in a simple braid.
This lob haircut was so popular this year that I know many of you are going through the same struggles I am. But don't worry – you aren't stuck with little ponytails or buns held up with tons of bobby pins. There are other cute hairstyles you can do that will keep you cool and feeling glam this summer. Better yet, they don't involve hot tools. Here are 9 easy no-heat summer hairstyles for medium-length hair:
1. Simply twist and pin random strands of hair to get it all off your neck and out of your face. This looks especially awesome with curly hair.
2. Take four little braids and make them into a messy updo.
3. This is another fancy updo idea that shouldn't take very long at all and looks really pretty:
4. Sometimes you just want to get the hair off the front of your face. Try this cool faux hawk look for a bit of an edge.
5. Two simple braids make a pretty and easy updo.
6. This pretty style works for super curly hair or straight hair.
7. This pretty style looks much more complicated than it is.
8. This style is unique and so pretty:
9. This knotted style is even more unique and fun.
Which of these summer hairstyles is your favorite? Which one are you going to try? What did I forget? Tell me in the comments.